Self-Service or Full-Service Photocopies
Do you ever wonder when you go into those big copy stores if they really understand what you need?   Do you get frustrated trying to figure out their machines, knowing it might take a while to get any help, if at all?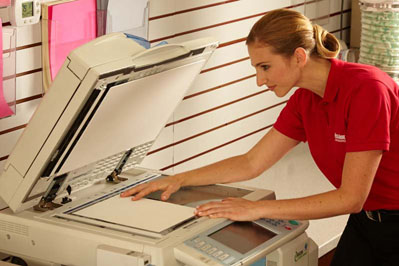 Come into PostalAnnex. Whether you like to do the job yourself or prefer full-service instead, the copy professionals at each PostalAnnex are ready to provide you with friendly, helpful and quick service.

Self-Service--for those who prefer to save by doing the job themselves


Full-Service--for Color and Black & White
Our printers offer 600dpi high-resolution copies and prints.


Paper Options:

20lb regular
28lb premium
cardstock (60lb and up)
color (pastel, bright)

Finishing Options:

Stapling
Collating (Sets)
Binding (comb, spiral, heat)
Punching (3-hole)
Folding
Laminating

Document Scanning
Document Shredding
Want to save even more time?
With the cost of pages printed by color inkjets at home approaching $1.00 (or even more) per page, it makes "cents" to send your projects to PostalAnnex.
So try our copy services today. If you have questions, please don't hesitate to call us at (800) 767-8252 or see us at PostalAnnex.
You'll see the same friendly faces ready to help you instead of wandering the store looking for help.
So try our copy services today. If you have questions, please don't hesitate to call us at (800) 767-8252.
Frequently Asked Questions
What types of paper are available for printing at PostalAnnex?

PostalAnnex carries a variety of paper for printing, including regular, premium, cardstock, and color paper.

How much does printing cost?

The total cost of your printing job will depend on how many copies you need, what type of paper, and if you require color printing. Contact PostalAnnex for an estimate today.

Can you make copies from a scanned document?

Yes. At PostalAnnex, we offer copy services as well as document scanning.

Why do my documents look pixelated?

Your document will look pixelated if you are using low resolution images or if any images are enlarged significantly. To ensure the best outcome, properly size all images and text.

Is there a limit to the amount of copies that can be printed?

No. At PostalAnnex, we accept printing jobs of any size from small (<100 prints) to large (>1000 prints).