Located in beautiful Los Gatos / Saratoga / Campbell
We are your neighborhood business service center, offering many needed services under one roof.
Are you a small business or home business owner?
We can save you time and travel by offering you shipping with your choice of carriers, private mailbox rental for keeping your home private and secure, copy services, notary public services, office supplies and much more.
Do you have individual needs for business services?
In addition, we offer packaging supplies to carefully pack items as if they were our very own, fax service, postage stamps, greeting cards, gift items and more.
When you come to PostalAnnex at 1484 Pollard Rd in Los Gatos / Saratoga / Campbell, it's like having your own personal assistant.
We offer you the benefit of being able to get many of your to-do's done under one roof:
Welcome To Your Pollard Rd PostalAnnex+!
Wine Shipping Services on Pollard Rd
Do you need to ship wine, but are worried about it arriving safely? The Pollard Rd PostalAnnex+ offers Wine Shipping Services! Whether you have a single bottle or whole cases, we offer competitive pricing and custom packaging solutions for shipping wine.
Shipping wine requires proper packaging to prevent bottle breakage and knowledge of state laws regarding shipping alcohol. Here at your Pollard Rd PostalAnnex+, we have the right supplies to properly package your wine, and we know the various state restrictions for shipping alcohol. Just bring in your wine, and we will take care of properly packing and shipping it.
Secure Document Shredding
Have bags or boxes full of personal information? We offer Secure Shredding Services for only $0.99 per pound. Just bring in your bags and we will weigh it, and have you out within minutes!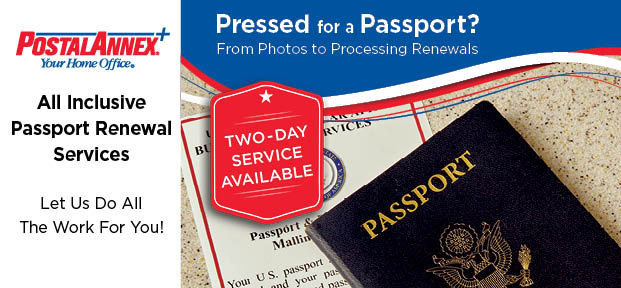 Passport & Visa Services
Do you need to renew your passport? PostalAnnex+ on Pollard Rd specializes in Passport Renewal Services. We offer expedited services which can process a passport in 1-2, 4-5, or 7-10 days, along with standard services from 4-8 weeks. Even if your passport has expired, we can help you renew it as long as it has expired less than five years ago. Passport photos can be taken on a walk-in basis anytime during business hours.
Mobile Notary Services
Do you need some documents notarized? We can come to you! Call us anytime during business hours to schedule a knowledgable and experienced notary to come to your location! We service Los Gatos, Saratoga, Campbell, Cupertino, and surrounding San Jose areas.