Travel Prep Starts Here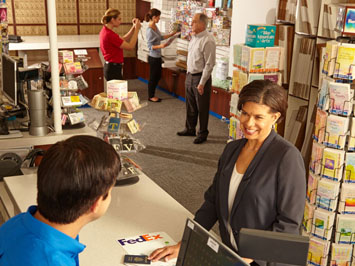 Looking to get a professional passport photo or start the renewal process? PostalAnnex can help. PostalAnnex specializes in providing you with quality photos and the most up-to-date passport requirement information, such as renewal or first-time forms. For more information, find a PostalAnnex location near you.
Criteria for Mailing in Passport Photos with Application
Must only be for a current and valid passport renewal.
You are over 16 years of age
Your passport was received in the last 15 years
Your recent passport is not damaged and able to be submitted
Your name is the same
Your name isn't the same but the change can be legally documented
Criteria for In-Person Passport Applications
First-time passport application
Not in possession of expired U.S. passport
Expired passport over 15 years from the issue date
Previous passport issued when under 16 years of age
Lost or stolen current passport
U.S. Passport Photo Requirements
There are photo requirements for U.S. passports and these are:
Photo must be in color and sized to where the head is 50-69% of the image's height from chin bottom to top of the head. Roughly 1 – 1 2/8 inch.
Photo must be 6 months old or less
Photo must have a white background
Photo must show full face toward the camera with both eyes open and a neutral expression on the face.
We at PostalAnnex stay up-to-date on the requirements for passport photos and make sure that your photo is ready for all applications and renewals.
Tips for the Best Passport Photo
There are several do's and don'ts for the best passport photo. These ensure that your photo will be accepted.
Do's
Do have a neutral expression on your face, eyes open, mouth closed.
Do face the camera head on and not look to the side
Do wear clothes that are not black or white so as not to wash out on the white background of the photo backdrop.
Do wear collared shirts or more business-friendly attire. A professional photo is better for business visas and employer paperwork.
Do wear a conservative neckline shirt or dress. This is because if the photo is cropped you will still appear to be wearing clothes.
Don'ts
Do not wear your glasses, as if there is a lens glare or other problem your photo may be rejected which can cause application delays.
Do not wear earbuds or headphones.
Do not wear a uniform or camouflage as the Passport Agency will reject your photo.
Do not overdo makeup, go for a more natural look.
Do not wear sunglasses or any other item that will cover part of the face. Eyepatches for medical reasons are allowed.
Do not wear hats or headbands, but you may wear religious headgear if you have a letter of explanation.
Plan Ahead for High Demand
Passports are in high demand, and you should get yours ready several weeks in advance of any travel. Here are more tips to help with your travel plans.
Renew your passport or take your photos a minimum of 4 months in advance
Expedited Passport Services are available for urgent needs
Mail in your forms with expedited shipping
Contact PostalAnnex with any passport service questions
*Availability of Passport Services may vary by location.
PostalAnnex can help you get your passport, including taking the photos and providing other information including forms for renewal or first-time.
At PostalAnnex, we specialize in taking professional US passport photos, accepted by passport processing agencies. Most stores accept walk-ins, so no appointment is needed. For more information, find and contact your local PostalAnnex location.
Plan Ahead for High Demand
There is currently a high demand for new passports and passport renewals. It is recommended to submit your passport requests well in advance of travel or expedite your items (if necessary) when using available Passport Services.*
We've put together a few tips to help you get ahead of the travel rush:
Take your passport photos and/or renew your passport at least 4 months in advance of your trip
If you urgently need a passport, Expedited Passport Services are highly recommended
Choose expedited shipping when mailing in your forms
Contact your local PostalAnnex with any questions about available Passport Services
*Availability of Passport Services may vary by location.
Passport Frequently Asked Questions
Who needs a passport?
Everyone who will be traveling outside the United States and wants to return needs a passport.
Can I mail in my passport photos taken at PostalAnnex along with my application?
Yes, but only if it is for a renewal of an existing, current and valid passport. If you meet the following criteria, you can mail in your application:
Your most recent passport is available to submit and it is not damaged;
You received the passport within the last 15 years;
You were over 16 when it was issued;
You still have the same name, or you can legally document your name change.
If you do not meet the criteria listed above for a renewal through the mail, you will need to bring your application in person to an acceptance facility. Examples of situations in which you will need to bring your application in person:
If you're applying for a passport for the first time;
If your expired U.S. passport is not in your possession;
If your previous U.S. passport has expired and was issued more than 15 years ago;
If your previous U.S. passport was issued when you were under 16;
If your currently valid U.S. passport had been lost or stolen.