If you want to start a business, now is a great time to consider postal and shipping franchise opportunities from PostalAnnex. In your search to buy a small business, please take the time to look over the information provided on this site. You'll find our formula has helped hundreds of people like you buy a business.
Today's busy lifestyles demand our services of postal, shipping and packaging, copying and printing, plus related business services. We save consumers time and money and, as we all know, that's what keeps them coming back. From tested methods of site selection to ongoing advertising and support, you can count on the expertise of a nationwide company to help you develop your own postal and shipping franchise business.
Doug & Chris Ware, Franchisees since 2004, explain why they're still excited to be franchisees.
If you're ready to own and operate your own business, take advantage of business opportunities at PostalAnnex.
Why should you choose PostalAnnex?
Experience: We have been in this business for over 30 years.
Company Culture: You are the entrepreneur of your own business.
Systems: We have the systems to help you manage and run your store.
Marketing: We have award-winning talent and expertise to help you market and develop your advertising campaigns.
Training: Our training program will equip you with the operational, marketing, and business tools you need to build your new business.
Support: Everyone in our company from our President down is involved in franchisee support.
If you're interested in learning more about the PostalAnnex postal and shipping franchise opportunities, fill out the Request Additional Information Form or complete our Confidential Franchise Application Form.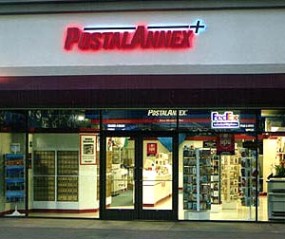 Are you ready to take control of your future?
Note: This is not a franchise offering. A franchise offering can be made by us only in a state if we are first registered, excluded, exempted, or otherwise qualified to offer franchises in that state, and only if we provide you with an appropriate franchise disclosure document. Individualized responses or communications to you that involve either effecting or attempting to effect the sale of a franchise will be made only if we are first in compliance with state registration requirements, or are covered by an applicable state exclusion or exemption.

Notice of Available Disclosure Formats
We will furnish you with our franchise disclosure document in paper form, if you qualify as a franchisee prospect. The franchise disclosure document will be presented to you personally in our office, by mail or by courier to you at our cost, if you qualify as a franchisee prospect. A copy of the franchise disclosure document will be made available to you electronically in PDF format, by written request to Mary Ann Canup at mcanup@annexbrands.com only if you qualify as a franchisee prospect. You will need to have Adobe Reader software installed on your computer to view the document and a printer to create a paper copy of the document.