Packaging Supplies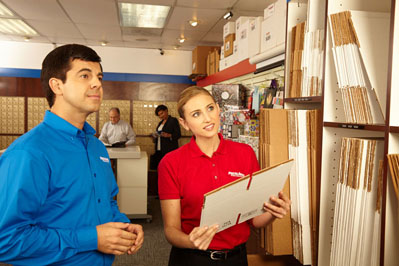 At PostalAnnex in Lake Elsinore, you'll find a variety of packaging supplies:  cardboard (corrugated) boxes, bubble packaging, Pelaspan® loosefill (also known as packaging peanuts or packaging popcorn), packaging tape, padded/bubble mailing envelopes, decorative mailers in both box and padded envelope variations, shipping/mailing tubes and many others.
The correct choice of packaging supplies affects several factors in the delivery of your shipment:
The proper shipping product will protect your contents against damage;
Choosing the right product will keep your contents from falling out of, or becoming loose from, the packaging;
Selecting the best size for your shipment not only protects your contents, but can minimize shipping costs as well.  If you select a packaging product too large for the contents, it may incur oversize charges on ground shipments, and dimensional weight charges on air shipments.  (Dimensional weight is the rated weight, not the actual weight, based on the size of the shipping container.
At PostalAnnex in Lake Elsinore, our packaging supplies professional can help you choose the right product for your shipment to ensure its protection as well as minimize shipping costs.
And the packaging professionals at PostalAnnex in Lake Elsinore have years of experience in knowing how to properly pack your items to survive the shipping environment of tosses, tumbles and drops.
From special packaging tape to 1/8" foam to protect shipments of dinnerware, we've got a variety of packaging supplies to offer you.  And what we don't have in-store, we often can get in as little as 24 hours.
So whether you want to pack at home or have us help you in the store, choose PostalAnnex in Lake Elsinore for the right packaging supplies; you'll certainly save time and may even save money!
So try our packaging supplies today. If you have questions, please don't hesitate to call us at (951) 246-1121.
Sincerely,
Ruirong Tong & Cindy Liu
PostalAnnex in Lake Elsinore
29991 Canyon Hills Rd
Lake Elsinore
,
CA
92532-2579