Passport Photos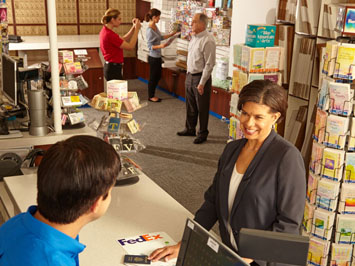 Get a professional passport photo taken and passport renewal process started at PostalAnnex in Sugar Land, TX. The United States State Department defines a passport as an internationally recognized travel document that verifies the identity and nationality of the bearer. A valid U.S. passport is required to enter and leave most foreign countries. Only the U.S. Department of State has the authority to grant, issue or verify United States passports.
PostalAnnex in Sugar Land can help you get your passport, including taking the photos and providing other information including forms for renewal or first-time.
At PostalAnnex in Sugar Land, TX, we specialize in taking professional US passport photos, accepted by passport processing agencies. Most stores accept walk-ins, so no appointment is needed, For more information, contact PostalAnnex in Sugar Land below.
Plan Ahead for High Demand
There is currently a high demand for new passports and passport renewals. It is recommended to submit your passport requests well in advance of travel or expedite your items (if necessary) when using available Passport Services.*
We've put together a few tips to help you get ahead of the travel rush:
Take your passport photos and/or renew your passport at least 4 months in advance of your trip
If you urgently need a passport, Expedited Passport Services are highly recommended
Choose expedited shipping when mailing in your forms
Contact your local PostalAnnex with any questions about available Passport Services
*Availability of Passport Services may vary by location.
Passport Frequently Asked Questions
Who needs a passport?
Everyone who will be traveling outside the United States and wants to return needs a passport.
Can I mail in my passport photos taken at PostalAnnex in Sugar Land, TX along with my application?
Yes, but only if it is for a renewal of an existing, current and valid passport. If you meet the following criteria, you can mail in your application:
Your most recent passport is available to submit and it is not damaged;
You received the passport within the last 15 years;
You were over 16 when it was issued;
You still have the same name, or you can legally document your name change.
If you do not meet the criteria listed above for a renewal through the mail, you will need to bring your application in person to an acceptance facility. Examples of situations in which you will need to bring your application in person:
If you're applying for a passport for the first time;
If your expired U.S. passport is not in your possession;
If your previous U.S. passport has expired and was issued more than 15 years ago;
If your previous U.S. passport was issued when you were under 16;
If your currently valid U.S. passport had been lost or stolen.
Sincerely,
Your PostalAnnex of Sugar Land Team
PostalAnnex in Sugar Land
400 Promenade Way Ste 1200
Sugar Land
,
TX
77478