Duplicate Key Cutting
Have you ever lost your keys and wished you had made a spare set? With a duplicate key from PostalAnnex, you'll never have to pay a locksmith an expensive fee again.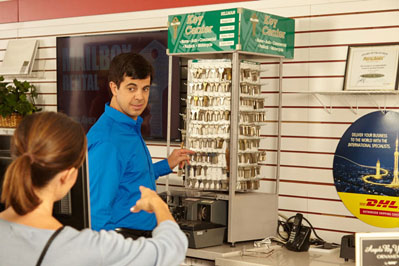 Our duplicate key cutting service is great for:
Spare house keys
Padlocks
Older automobiles
Landlords
Property Managers
Storage Units/Sheds
...and more

The process takes usually between 1-2 minutes using our automated, calibrated machines, perfect for ensuring a duplicate key cut with accuracy.
Many of our stores also offer designer keys. From your favorite sports team to your childrens' favorites, a designer key helps stand out on your keychain, providing you safety with a quick entry instead of fumbling to find the right key.
Some stores offer additional key-related products such as rubber key identifiers, padlocks, key chains and hide-a-key compartments.
Getting a duplicate key made is another convenience offered at PostalAnnex beside the shipping, faxing, greeting cards and postage stamps.
Save yourself time and driving by visiting your local PostalAnnex....Life's Personal Assistant. If you have questions, please don't hesitate to call us at (800) 767-8252.
Frequently Asked Questions
What types of keys cannot be duplicated?

We cannot duplicate keys such as transponder keys, laser cut keys, VAT keys, tubular keys, four- sided keys, and abloy keys.

How long does it take to duplicate a key?

It typically takes 1-2 minutes to duplicate a key from start to finish.

Do I need the original key to make a duplicate?

Yes, we will need your original key in order to cut a duplicate key.