Shipping Supplies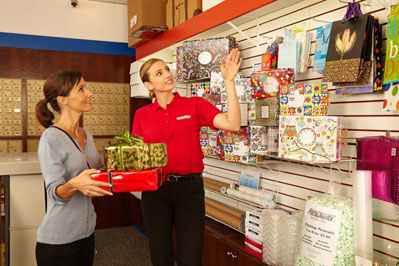 At PostalAnnex, you'll find a wide variety of shipping supplies: cardboard boxes (corrugated boxes), bubble packaging, packaging foam peanuts, packaging tape, padded & bubble mailing envelopes, decorative mailers in both box and padded envelope variations, shipping tubes, mailing tubes and much more.
Choosing the correct shipping box and packaging materials affect several factors in the delivery of your shipment:
Protects against damage - the right materials keep items protected and from shifting in transit.
Reduces shipping charges - an oversized box may incur dimensional weight charges
Insurability - the carriers often will not insure contents against damage if a previously used shipping box was tendered for shipping. Used boxes may have compromised structural integrity.
At PostalAnnex, our shipping supplies' professional can help you choose the right shipping boxes for your valuables so that they endure the drops, tosses and tumbles throughout the transit process.
From special, strong packaging tape to 1/8" foam to protect shipments of dinnerware, we've got a variety of shipping supplies to fit your need. And what we don't have in-store, we often can get in as little as 24 hours.
So whether you want to pack at home or have us help you in the store, choose PostalAnnex for the right shipping boxes and shipping supplies; you'll certainly save time and may even save money!
Stop in today and we'll help you find the right shipping supplies today. If you have questions, please don't hesitate to call us at (800) 767-8252.