Private Mailbox Rental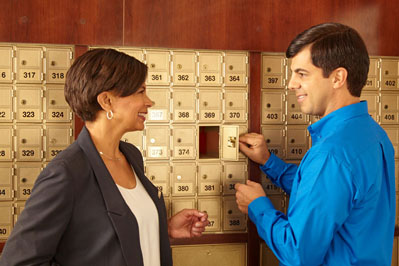 Are you someone that needs privacy and security for your mail and packages?  Consider renting a private mailbox at PostalAnnex.
There are many benefits to the convenience of having a mailbox at PostalAnnex:
Your mail is safe behind two locks – front door and your mailbox;
Your mailbox is private – we don't disclose to others that you have a mailbox;
We'll accept and secure packages for you – don't chance a package getting stolen from your doorstep; we'll accept packages from UPS, FedEx and other couriers and keep them secure until you arrive…on your time.
Safety, for you and your family – if you have a business and don't want customers showing up at your house, protect your family with a private mailbox at PostalAnnex.
Professional appearance – having a mailbox at PostalAnnex means you have a street address.  And many people view a business with a street address as a long-term operation, not here today, gone tomorrow. That's better business for you. A private mailbox rental at PostalAnnex shows a street address for a professional appearance.
What do you need to open your mailbox?
Complete USPS Form 1583 provided at the store.
Bring in the form along with two forms of identification:

current driver's license or state identification card
armed forces, government, university, or recognized corporation identification card
passport
alien registration card or certificate of naturalization
current lease, mortgage or Deed of Trust
voter or vehicle registration card
home or vehicle insurance registration card
A photocopy of your identification may be retained by the PostalAnnex representative when you open your private mailbox, as per USPS requirements.
It's that easy.  Call the store today at (800) 767-8252 if you have any other questions.
We look forward to providing you safe, secure, private mailbox rental at our PostalAnnex location.
So try our Private Mailbox Rental Services today. If you have questions, please don't hesitate to call us at (800) 767-8252.