June 30, 2019
Whether you're looking for a new wardrobe, summer decorations, or thinking ahead for a complete home décor makeover, there really is never a bad time to try out a new look. What's even better is finding items so unique that no one else will have them. If you've been in the market for a change at home, consider visiting Heavenly Treasures in Concord, NC.
In business since 2013, Heavenly Treasures started on their very own front lawn. Not long after that, they found a large 6,000 square foot warehouse for some much needed storage. A mere two years and a lot of hard work later, they were operating in their own store. Now located at 324 Church Street in Concord, Heavenly Treasures is open Wednesday through Saturday every week.
In order to provide their customers the best prices and deals they can, the team at Heavenly Treasures buys their merchandise in bulk, often from estate buyouts. They don't consign or buy individual items. A big goal of the owners (the Lamberts) is to provide families of any income the ability to buy and have nice things for the house.
As is the case with many antique and thrift shops, the inventory is constantly changing. That gives customers a variety of new, one-of-a-kind items to rummage through each and every time they stop by the shop. Items include: jewelry, lamps, furniture, electronics, kitchenware, glassware, tools, books, linens, and more. By doing complete estate buyouts, it allows for such a multitude of inventory for customers.
It's understandable that on occasion, an item you find at the shop may be too large, awkward, or fragile for you to travel with you. Luckily, you don't have to worry about finding a way to squeeze something into your luggage or worse, leave something behind, because it just won't fit in your mode of transportation. You can call or visit the PostalAnnex on Poplar Tent road in Concord. PostalAnnex specializes in packing and shipping items of all sizes. They even offer multiple shipping options to make sure your items will arrive at your doorstep on your time and budget.
With 88% of the private companies in the U.S. employing 19 or fewer employees (Source: U.S. SBA), we at PostalAnnex believe local businesses are vital to the health of the U.S. economy. Therefore, PostalAnnex is pleased to feature Heavenly Treasures as our Featured Local Neighborhood Business and encourages locals to buy from local businesses.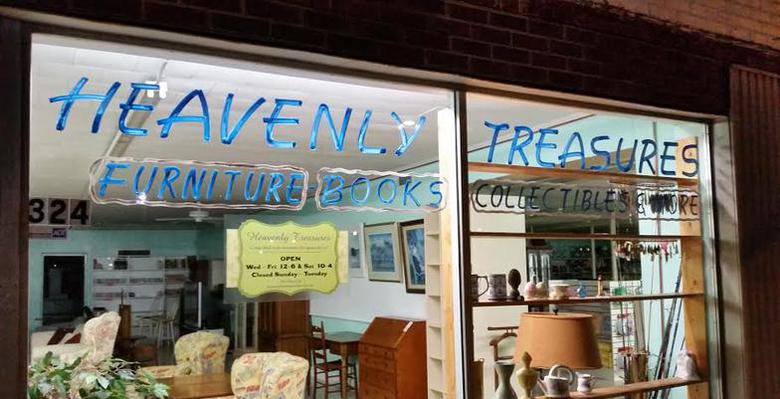 (Source: Heavenly Treasures website)