Landmark Bookstore in Berkeley, CA
September 30, 2018
With that fresh chill back in the air, there's not a lot better than curling up on a couch with a hot cup of cocoa and a good book. Whether you're in the mood for the latest bestseller or cozying up with a classic, a great story can be just what the doctor ordered. If you happen to be in the Berkeley area and in the market for literature, consider visiting Moe's Books.
Open since 1959, Moe's Books is a world famous destination for book lovers. Owners Moe Moskowitz and his wife Barbara moved the store to Telegraph Avenue, where its located now, in the 1960s, during the heart of the Free Speech Movement.
Moe's is open Wednesday through Saturday, from noon to 6pm. The reason book lovers across the world travel to Berkeley just to visit Moe's is because of its history and expansive collection of, well, books. To give an idea of the breadth of subjects, customers can find books on gardening, art, classic literature, cooking, children's books, health, history, philosophy, sports, travel, and more.
Of course, Moe's isn't just about finding that perfect new book. They also host a series of reading events, where well-known poets and authors will come in and read some of their work. Moe's also hosts midnight release parties for popular books, offering music and refreshments for those in attendance.
Boasting an ever-changing stock of hundreds of thousands of titles, Moe's buys and sells used books every day.
If you happen to find the perfect book/s for the literature lovers in your life and need some help shipping it to them, simply visit the PostalAnnex+ a few blocks away on Channing Way. No matter how many books you're shipping, the experts at PostalAnnex+ will securely pack them to make sure they arrive at their destination in perfect condition. PostalAnnex+ offers a variety of shipping options from a multitude of carriers to best suit each and every customer's particular needs.
Location:
Moe's Books
2476 Telegraph Ave
Berkeley, CA 94704
With 88% of the private companies in the U.S. employing 19 or fewer employees (Source: U.S. SBA), we at PostalAnnex+ believe local businesses are vital to the health of the U.S. economy. Therefore, PostalAnnex+ is pleased to feature Moe's Books as our Featured Local Neighborhood Business and encourages locals to buy from local businesses.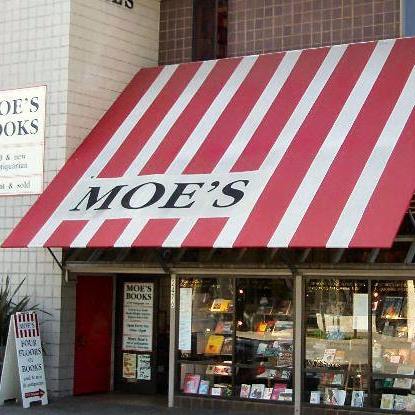 (Source: Moe's Books Facebook page)